Kakuya Ohashi and Dancers 2009
March 5, 2009
Kakuya Ohashi and Dancers is the most avant-garde dance company in Japan.
Our works explore people's physicality in contemporary society by adopting choreographic methods from Butoh by Tatsumi Higikata.
English Document about Kakuya Ohashi and Dancers 2009 is below (PDF).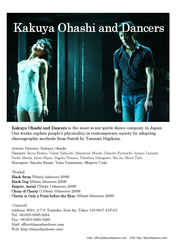 The video for the Visual Presentation of the Tokyo Performing Arts Market (TPAM) 2009.
The video includes following works.
Empire, Aerial (70min, 14 dancers with 2 musicians, 2008)
Black Swan (50min, 4 dancers, 2008)
Black Dog (25min, 2 dancers with video projection, 2008)
Chain of Clarity (110min, 10 dancers with a musician and video projection, 2008)
Bleached *new work premiere on Mar 7th
[Company Members]
Artistic Director: Kakuya Ohashi
Dancers: Reina Enatsu, Yukari Kakiuchi, Masazumi Minaki, Natsuko Furutachi, Ayumu Yamada, Naoko Maeda, Akino Miyao, Nagako Tomaru, Takafumi Nakagawa, Mie Ito, Shiori Tada
Managers: Sayaka Sango, Yuno Yamamoto, Shigeru Ueda
[Contact]
Address: #301, 2-7-9, Tomioka, Koto-ku, Tokyo 135-0047 JAPAN
Tel: +81(0)3-6905-9264
Fax: +81(0)3-6905-9265
Mail: office@dancehardcore.com
Web: http://dancehardcore.com/

posted by Kakuya Ohashi at 2009/03/05 2:31:45